emarketer.com
Apps generating the most revenue tend to be some type of content subscription service, like Netflix
Recent research from Sensor Tower shows that revenues generated by nongaming apps are seeing a huge leap worldwide. The company reported that nongame app revenues totaled $2.8 billion globally in Q3 2017—a 67% increase year over year.
Despite the fact that smartphones running Google's Android operating system are more widely adopted than the iPhone on a worldwide level, the vast majority of nongaming app revenues are being generated on Apple's App Store, Sensor Tower found.
In fact, the store made $2.2 billion in revenues from such apps during the third quarter, compared with $605 million for the Google Play store.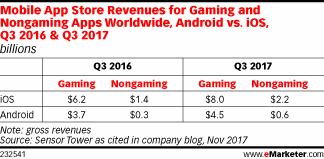 Even though that number was comparatively small in Q3 2017, it was still an 84% increase from last year's figure, indicating that Android users are spending significantly more on or within their apps.
Sensor Tower also found that the apps atop the revenue-generating leaderboard tended to lean heavily toward those delivering some type of digital content. Netflix was in the No. 1 spot worldwide, but music-streaming service Pandora, HBO Now, Tencent Video and fellow China-based video-streaming platform iQiyi all made it into the top 10 list.
When Sensor Tower narrowed its scope to just the US, it found that Pandora had ridden its Pandora Premium offering to first place in app revenues; Pandora grabbed more than $80 million during the quarter on the App Store and Google Play combined, according to Sensor Tower. Netflix, HBO Now and YouTube were also in the top five list, with Tinder holding the No. 4 slot. Premium TV channel Starz and music streaming site Tidal also cracked the top 10 list.
It seems that subscription-based business models are doing quite well for app publishers, perhaps far better than apps that have embraced an advertising revenue approach.
Overall, the uptick in mobile app revenues makes sense given how much time consumers are increasingly spending with their apps. eMarketer projects that in the US alone, smartphone and tablet users will spend an average of a little more than 3 hours per day with mobile apps, compared to about 30 minutes on the mobile web.